In WordPress key to get success in search engine ranking is the website loading speed and it comes from the hosting you use, so in A2 Hosting reviews guide I have listed Pros and Cons of A2.
A2 Hosting is the fastest, wonderful, and excellent hosting I have been used to date at an affordable price.
It is in the market since 2001 and well known for providing the fastest hosting service.
Besides the fastest loading speed, they offer anytime moneyback guarantee, which brought my attention to A2 and their confidence in their hosting service as compared to others which provide only a 30 or 45 days moneyback guarantee.
Isn't it something special with A2?
Well, earlier I have used different hosting services such as Bluehost, HostGator, etc and I recently switched to A2 so this is guide is worth comparing my experiences as well.
I have been using A2 Hosting for the past 2 months and this A2 hosting review guide will be the fresh learning or experiences on the below topics.
Website performance and loading speed.
Comparison of various hosting plans.
Why they offering AnyTime Moneyback guarantee?
A2 Hosting customer supports as compared to other hosting providers.
My thought on A2 and which hosting plan you should buy?
Step by step guide on how to buy A2 hosting service with 58% Off?
About A2, here are the highlights:
| Highlights | Answers |
| --- | --- |
| What is Uptime? | 99.9% Uptime |
| Web Hosting Plans | Shared, VPS, WordPress, Dedicated Hosting |
| Moneyback guarantee | Anytime Money Back guarantee |
| Customer Support | 24/7 Customer support on Live Chat |
| SSL Certificate | Free for all the sites |
| Bandwidth | Unlimited bandwidth and SSD storage |
| Website Migration | Free c-Panel migration from Another hosting |
| Minimum Pricing Plan | Starts with $3.92/month |
| My Thought | The fastest and powerful hosting |
A2 Hosting Reviews: Is this the fastest hosting?
In this A2 hosting review guide, we will go through all the services A2 is offering and will try to highlight the user reviews and the page loading speed for the site hosted on A2.
What is the server response time and which hosting plan would be the best for the beginner and how to signup and host your very first site with A2 in a step by step guide?
A2 Hosting is offering various hosting plans such as shared hosting, VPS hosting, WordPress hosting, and dedicated hosting.
But in this guide, we will only focus on the shared hosting plan as it is the plan which is recommended for the beginner and you can upgrade this to anytime whenever you want.
So let focus on A2 Hosting shared hosting plans first. If you need a quick look must watch this video.
A2 Shared Hosting Plans?
Shared hosting plan is the most recommended for all the beginners because these are a good start for beginners by investing close to $50 bucks for a year.
If you are unaware then a shared hosting plan is a service in which the number of sites is hosted on the limited number of servers, where limited resources are used among all the site owners.
As a result, the cost of those servers will be divided among all the site owners and you have to pay less for using the shared hosting plan.
Similarly, A2 hosting offers three shared hosting plans based on the website owners need.

Here are the major highlights of each hosting plan.
| Feature | StartUp | Drive | TURBO BOOST |
| --- | --- | --- | --- |
| Number of websites | 1 | Unlimited | Unlimited |
| Site Migration | Free | Free | Free |
| Bandwidth and Storage | 100 GB SSD | Unlimited SSD | Unlimited SSD |
| Free Domain Name | No | No | No |
| Free SSL | Yes | Yes | Yes |
| 20x Faster TURBO speed | No | No | Yes |
| A2 Optimized WordPress | Yes | Yes | Yes |
| Anytime Moneyback Guarantee | Yes | Yes | Yes |
| Auto Backup | No | Yes | Yes |
| Pricing plan | Starts with $2.99 | Starts with $4.99 | Starts with $9.99 |
If you have compared the above-provided table data then here are the outcomes.
STARTUP Shared Hosting Plan
All the services offered with the STARTUP plan which was earlier known as LITE plan are the same as other hosting plans but the only difference is with the number of sites which will be only 1 if you will go with the Startup plan.
The other part is no free website backup, but not to worry if you have gone through the how to start a blog guide then you already got the idea how to take the backup of the site for free.
Drive Shared Hosting Plan
This is the most recommended hosting plan for all the bloggers, as it offers unlimited website hosting with unlimited bandwidth.
I am sure, every blogger seeks to have more than one websites and if you have any plan to start more than one websites then I recommend going with the DRIVE plan only.
This in addition to the Startup plan also offers its Growth features such as 2X more resources, free automatic site backup, unlimited database, and performance management in case of a traffic spike.
TURBO BOOST Shared Hosting Plan
TURBO hosting is for those who are very concerned about the fastest loading speed in which special hardware will be allocated to your site and very few sites will be hosted on those shared servers.
You will get their special Turbo servers which will make your site speed 20X faster as compared to another shared hosting plan.
Turbo shared hosting plans offer all the features including what Startup and Drive plan are offering.
Well, I have been using A2 Turbo Shared hosting plan to host more than 6 websites.
Customer Reviews and Expert view?
Before deep-diving further, let the first drill down what expert or users say about the A2 hosting, I have checked some nonbiased reviews from a few random sites.
And you won't believe the results were surprising as A2 hosting is rated 9.2/10, it's superb by HostAdvice.

When I checked a few other forums then even, A2 hosting on all the parameters including reliability, speed, support, features and most important at an affordable price, is ranking on the top.
Uk Trust pilot-rated A2 hosting based on 879 reviews as 4 start hosting with great performance.

Customer affairs is a non-biased review site on which more than 150 people have shared their experiences with A2 hosting and most of them rated A2 more or above 4-star rating.
This proved not only me but like me, there are many people who have tested A2 and they are pretty much happy.
But what A2 is actually offering in terms of website loading and performance speed, let me highlight my personal experience.
Website Loading Speed and 99.99% Uptime?
It is the crucial point to discuss with A2 hosting as their tagline itself says our speed your success.
Let me take an example of my site mrvyasidea which was earlier hosted on Bluehost which even too good hosting but the site was not properly optimized.
I recently did a migration of that site to A2 hosting then here is the difference in loading speed.
Before A2 Hosting
When hosted on A2 hosting


Two screenshots of the same website taken on 4th December and 7th December before and after migration.
Site mrvyasidea is a very heavy loaded site that uses Google Adsense ads, page layover email subscriber popup.
More than 120 posts and a number of pages designed using a page builder like Elementor and Thrive Architect.
Still loading within 4 seconds, which is surprising for me, and do you know how much time Bloggingos taking to load?


GT Matrix showing close to 2 seconds and the Google page speed score is close to 90.
Isn't is superfast?
Still, I haven't optimized the site properly. So I am sure, you are confident enough with the website loading speed.
When I was checking the server response time recorded by a test site hosted on Pingdom for the past 1 year then I found the average response time is close to 300 ms.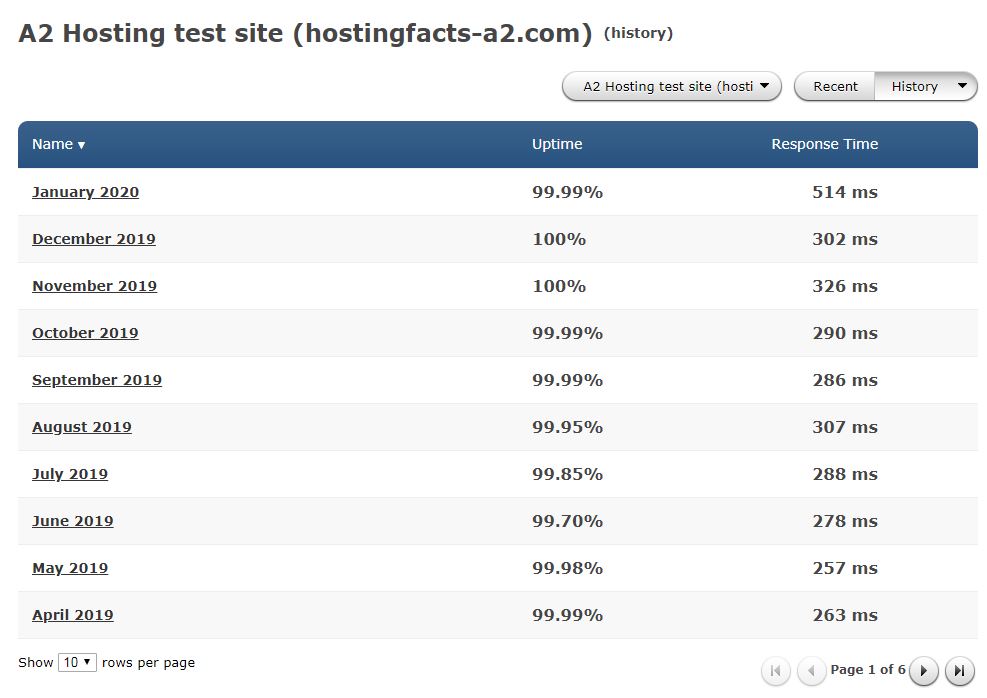 Image Credit Hosting Facts
This is pretty much close to what Google is asking for, but when I checked for the past 2 years then it was close to 250 ms, which is the exact match with the Google guideline.
So are you with me?
I have been using A2 Hosting for the past 2 months and I did not found any minute when my site was down as I already place an auto-monitoring to trigger an email if it founds site is down.
If you will track the same site monitoring results, it found that the test site has received 99.99% uptime even in the latest months it is 100%.
So I hope you are pretty much confident as I am, on the website performance and loading speed of A2.
A2 Optimized WordPress and site accelerator?
You know the major differences between shared hosting and WordPress hosting is the site hosted on WordPress hosting will be well optimized for WordPress.
But A2 is offering free A2 optimized WordPress for all the sites on their shared hosting plan,which will optimize your site to load faster.
You can download that plugin from the WordPress plugin library and it will integrate with A2 hosting backend and will do its job to load faster your website.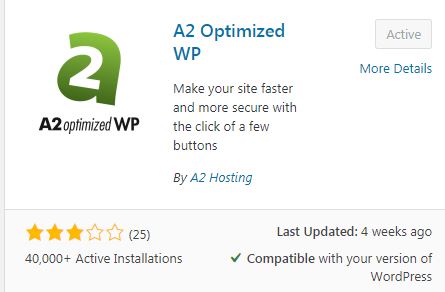 It has different features like:
Inbuild W3 total cache to improve the caching ability of the files and Minify HTML, CSS files
Free image compressor to optimize every uploaded image to the site.
Memcache database and Object cache, which offers server-level caching and improve server response but only available for Turbo plan holders.
You can get all the features detail from their official plugin use guides.
By default, every site will be installed with the A2 optimized WordPress installations and in case of any query, you can ask their online chat support to solve on behalf of you.
24/7 Customer Support and online chat?
It is not practical for everyone to deal with the backend of the hosting as many of us are friendly with the front end or little bit with WordPress admin board.
Hence to answer your every single query A2 hosting has 24/7 online chat support, which they call Guru crew support.
My experience is great with their customer support and almost every query is solved within a couple of minutes.
But I observed a waiting period of an average 15-20 minute each time to connect first, which earlier irritates me but later I am used to it as now I know it will definitely take.
But once you connect with them you have the freedom to ask as many questions as you want even I did chat for around 50 minutes to solve the technical problems.
So it is amazing and not only me but there are multiple people who accepted the same.

Once you have your own hosting account then you can raise a support ticket from the dashboard and they will solve your problem by tracking every single discussion.
Unlimited Bandwidth and SSD Storage?
Almost every hosting is claiming to offer unlimited hosting and unlimited bandwidth to host as many files as you want.
In parallel, they all offer SSD storage, which is 30 times faster as compared to local disk storage but the reality is totally different and this makes A2 different as compared to others.
Because others by claiming the use of SSD storage they only put files and images into the SSD drive however all the database and OS will remain in the hard disk.
However, A2 offers unlimited SSD storage for all the files, database, and OS which gives faster website loading speed and under Turbo plans offer server-level caching.
Except for the Startup plan, you can host unlimited websites under every plan A2 hosting is offering.
Free Website Migration
We all love to switch the hosting whenever we found any best hosting offer or facing any issue of downtime with the existing hosting provider.
Then the first thing that came into mind is what about site migration and major hosting services including Bluehost charge more than $50 for site migration even you bought hosting from them.
But A2 hosting offers free site migration anytime you want from any hosting service you are currently using.
Just head over to your dashboard and raise a support request for site migration there they will ask for your earlier host C-Panel URL and credentials and rest they will all take care.
Note: In the Shared hosting plan they offer free full c-Panel migration, not any individual site migration, which means all sites will be migrated whatever hosted on that C-Panel.
If you need individual site migration, which is file migration then they will charge you $25 per site.
Anytime Moneyback Guarantee?
Every hosting company offers a minimum of 30 days full money-back guarantee if I note down the few names then.
Bluehost: 30 Days Moneyback Guarantee
SiteGround: 30 Days Moneyback Guarantee
HostGator: 45 Days Moneyback Guarantee
But A2 hosting offers anytime money-back guarantee because they believe that their service is trustworthy and they will offer the faster and secure hosting service to every site owner.
Note: If you will ask for a refund within 30 days then you will be paid with the full amount but if you will ask after 30 days then the remaining amount which is yet not used will be paid back.
Even this is an excellent deal and I like the most that anytime you feel it's not working for you then you can opt-out with the remaining amount.
However, with another hosting service, the window to refund back will be closed just after 30 days from the date of purchase.
How is the deal?
Well, I am using the Turbo hosting plan which is the topmost plan offered under A2 hosting but you can go with the Drive plan as it recommended the most.
Why You Should Not buy A2 Hosting?
Every hosting has Pros and cons and it is obvious with A2 hosting, but do remember you are taking the shared hosting plan not any dedicated server or VPS.
Which is already cheaper and best fit for the fastest and high loading speed, but here are few things to focus on.
Waiting Time: I have observed an average of 15-20 waiting times during an online chat, which is close to 1 minute in the case of Bluehost.
C-Panel: Their backend dashboard is a bit complex and it will take around 2-3 hours for newbies to understand how to deal with C-Panel, which is not simple as offered by Bluehost.
Renewal Prices: Renewal prices will be double then what you are paying right now but this is the case with all the hosting.
Honestly speaking except these three, I did not find any issue with A2 hosting, but to minimize your renewal cost, you can take initially hosting plans for long durations.
Or you can buy new A2 hosting after expiry, with the same minimum cost, and can request site migration.
Simple and clear.
Anyhow, you have to deal with the waiting time but the query resolution is excellent and I am sure after 2-3 hr of hook and cook you will get an idea how to use A2 backend.
So if you have made your mind to get Any time money-back guarantee hosting by A2 and still with me in this A2 Hosting reviews guide.
Then let me guide you on how to buy A2 hosting step by step with 58% Off
How to Buy A2 Hosting Account- Step by step
I know many of you are new and for them, it is a bit struggling job to know the actual process on how to open a hosting account with A2.
I have listed all the necessary steps you have to follow while purchasing the A2 hosting.
As I said every blogger always opens more than 1 website within a year and that is why we will focus on the DRIVE plan offered by the A2 hosting.
The bonus part is you will get instant 58% off on your first time purchase with A2 hosting if you follow the below instruction.
Step 1: Activate 58% Off on Hosting Deal
Click to Activate Deal link to get 58% off instantly and this will navigate you to the shared hosting plan window of A2.
Step 2: Select a Hosting Plan
Click to Get DRIVE (or any other plan) then the promo code for 58% Off will auto-apply for your account.
Hurray!! Your price now reduced to $4.99 from $11.99.
You can buy any plan and the latest promo code will be auto-apply on every shared hosting plan.

Step 3: Provide the Domain Name
A new window will open to provide the domain name, do remember in A2 hosting you will not get a free domain.
But on this screen, you can set any dummy domain name which you can change later, hence choose the option "I will use my existing domain" then provide domain name and click to Use.

Step 4: Additional Services and Server
On this screen, you will have multiple options to choose from but first focus on the additional services and server locations.
On this screen, you have different checkboxes like Turbo boost, performance plus, and advanced SSL.
So make sure all checkboxes are set to No or Free else additional cost will be added in total.
You will have 4 server locations to choose from and default it will be set for Michigan (US East Cost)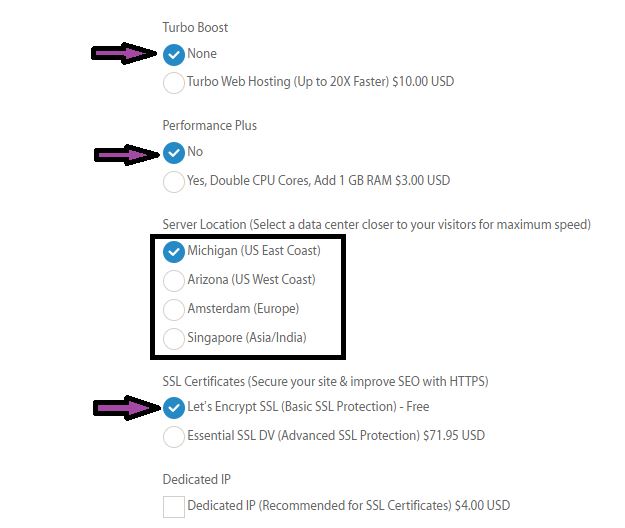 If your maximum traffic is from the USA then choose the USA server and if it is from India or Asian country then probably Singapore would be the best choice.
Step 5 : Review Order and Prices
This step is crucial to saving money while purchasing the A2 hosting plan as do remember A2 offers 58% off only on your first time purchase.
If you will take this for the short period of the monthly or yearly plan then after a short term on renewal, you have to pay double then what you are paying initially.
Hence my recommendation is to buy at least 2 years as you remember they have any time moneyback guarantee and you can get a refund back anytime you want.
But the ultimate choice should be of yours as you need more budget to pay for the first time a 2-year purchase else best is is to go with 1 year plan.
In the billing cycle dropdown, you can choose the number of months and do remember the price will be less as you take this for a longer duration.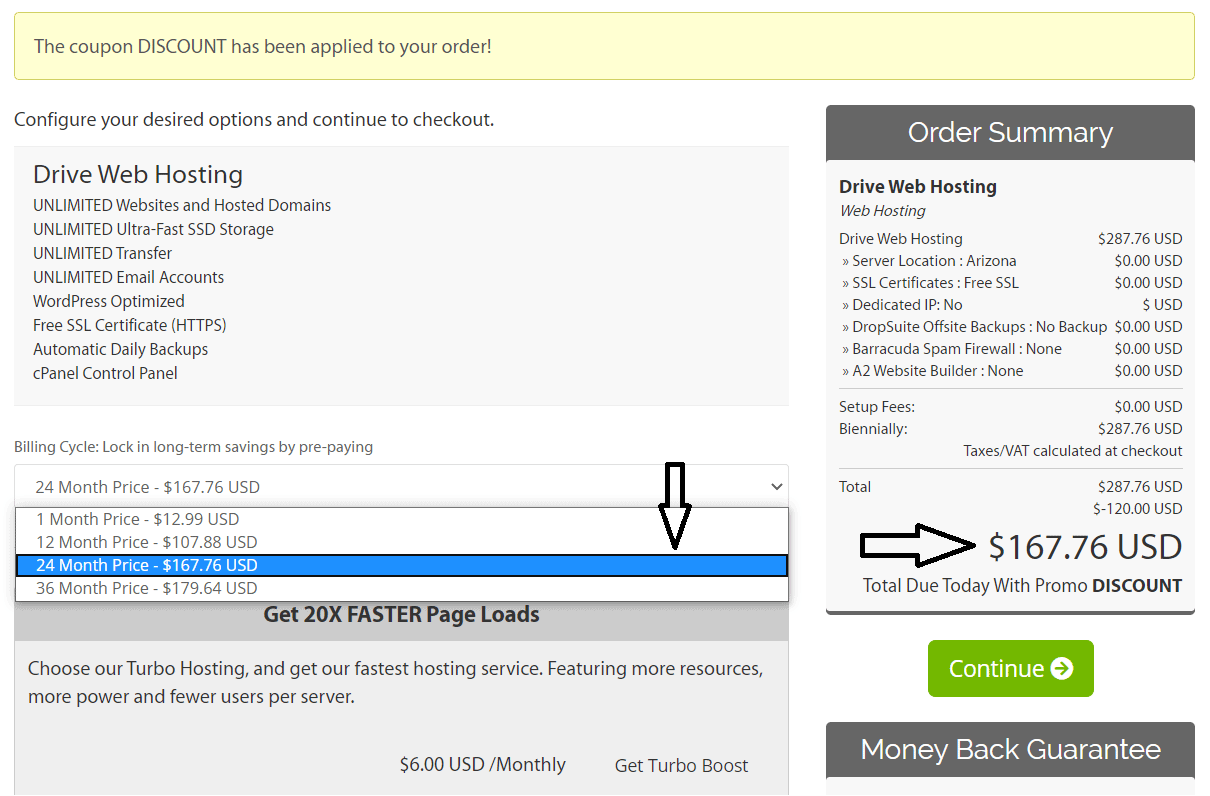 I have selected a Drive plan for 2 years and the total cost is $287.76 but after auto-apply promo code, if you have gone through the link provided above then the new price will be $167.76.
If you are good with the price then hit the Continue button and it will navigate to review screen.
Step 6: Review the Hosting purchase Detail
On this screen do verify the options you have selected on the previous screen and the total amount you have to pay, it is just a confirmation window before moving forward to the payment window.
But do remember you have to pay some taxes and it will apply based on the country or area you are living in.
So click to Estimate TAX and provide your Postcode, state, and country as I provided below dummy data and click to update total than an additional tax of $33.55 added to my total amount.
Hence, now the total payment I have to pay is $201.31 instead of $167.76 and if you won't update this amount from this screen then on the next screen it will be auto-update.
So now click to Checkout and it will navigate to the payment processing window.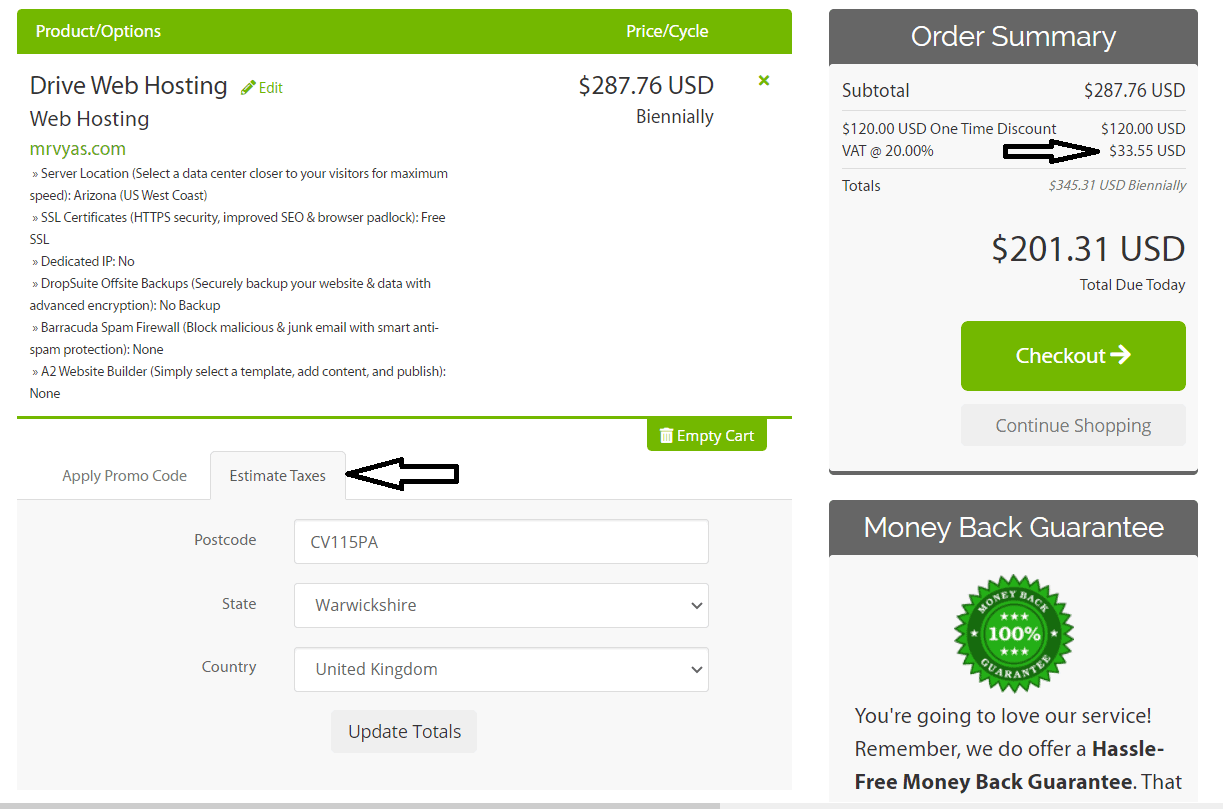 Step 7: Personal Account detail
On this screen first, provide your own personal detail and do remember if you have not updated the total amount based on estimated tax then it will be added on this screen based on your billing information and personal details.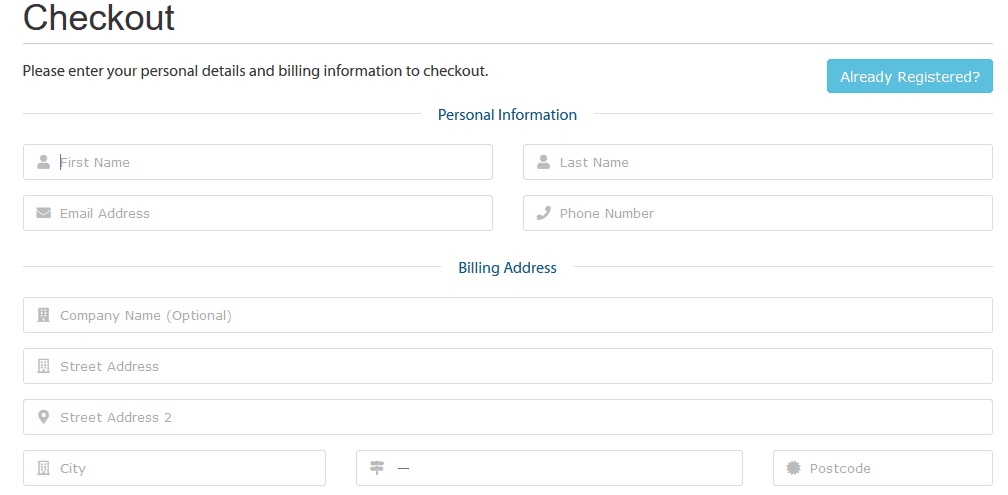 Step 7 : Payment Options
If you will scroll down the page then You are in the final step to check out the payment and A2 offers five ways to check out the payment and the one which suitable for you, you can checkout.
Credit/Debit card
PayPal
Skrill
Check or Money Transfer
Bank Wire transfer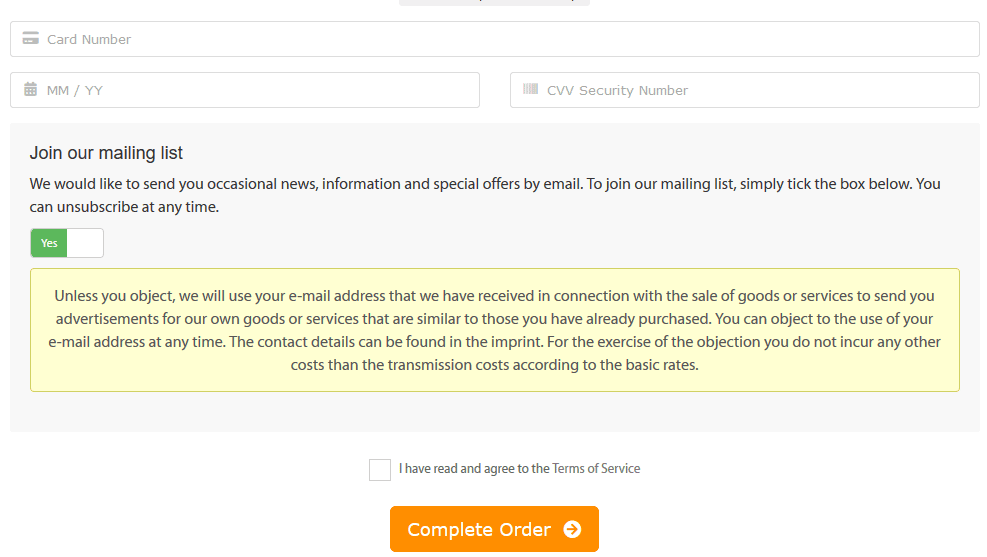 No click to "I have read and agree to the terms of service" and click to complete order.
Hurry !! you have successfully on-boarded to A2 hosting service and email will be triggered to you with credentials to log in.

These are the simple steps you have to follow to get enroll with A2 hosting and I hope you enjoyed this A2 hosting reviews guide.
Which hosting you are currently using and how is your experience with that please let me comment in the comment box.
Wrap up on A2 Hosting Reviews
With my experience A2 hosting is the fastest hosting we all can have because of two reasons one is it's proven track record and second is the anytime moneyback guarantee.
I have been using for the past 2 months and the site speed is excellent when it comes to price this is in an affordable range lower then SiteGround and close to Bluehost.
They offer unlimited bandwidth with SSD storage and free site migration makes them different from others.
Which hosting you use and ho0w is your experience let me know in the comment box.